Dava M Flowers's Fundraising Page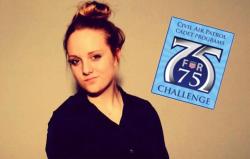 Hello there! My name is Cadet Captain Dava Flowers of the Texas Wing!
I am absolutely esctatic to accept this challenge because I have seen first hand the amazing things these funds can accomplish. I joined the Civil Air Patrol as a shy 12 year old girl with no interest in aerospcae or learning more than required of me. Upon joining, however, I have only seen my passion for learning grow and thrive through cadet programs. From teaching classes to flying a glider, the Civil Air Patrol has selflessly gifted me a world full of opportunity that I never would have thought possible before. It has opened relations between incredible people that have shaped my life towards valuing my education, finding value in people, and improving myself in every way possible. For that, I am forever grateful.
Given that the CAP is a non profit volunteer organization funds cannot not be collected at the squadron level, so previously there was no feasible way for us to fundraise effectively on our own. However, 75/75 has finally granted us our chance! I intend to create an environment where others can learn what I have through this incredible program. These funds will help support the new cadets in my squadron (Randolph Composite squadron, SWR- TX-142) experience all that the Civil Air Patrol has to offer.
I am a firm believer in the work we are able to accomplish as a community and hope that YOU can help me in making my dreams a reality. It's not everyday that you are able to find a program that fosters passionate volunteer service, but that truly is what I see in the CAP. I would absolutely love your contribution to my page, but truthfully that is not all I'm here for. If you know anyone who could assist me in reaching my goal I would really appreciate your support and outreach. Although I am in search of funding, my main motive for this fundraiser is to reach out to my community and show them what a single organization can do to shape a persons life. I would absolutely love to start a conversation about it at any time.
My time invested into the Civil Air Patrol was always been an investment in my future, and that is a great feeling.
Thank you very much for your time. Lets make this happen!
~ Cadet Flowers
ABOUT 75 for 75 Challenge
As you may know, Civil Air Patrol is celebrating the Cadet Program's 75th Year. The #75for75Challenge is designed to provide Civil Air Patrol Cadets a structured, well-marketed National Fundraising Campaign to deliver additional financial resources to their local units. This Challenge asks cadets to undertake goals that they personally set for themselves. To learn more about the Civil Air Patrol, visit: http://www.gocivilairpatrol.com
Civil Air Patrol is a U.S. tax-exempt 501 (c) (3) organization. Consistent with IRS guidelines, Civil Air Patrol affirms that goods or services of only insignificant value have been provided to you.
Supporters
Name
Date
Amount
Comments
Autry Witt Sr.
02/24/2018
$47.00
So proud of you!
Melissa Williams
02/23/2018
$20.00
Love you baby girl!
Maryam Nazari
02/23/2018
$20.00
way to go!
Aunt Jayne
02/22/2018
$20.00
Mike Hull
02/22/2018
$200.00
Good luck and thank you
Jeremy Carsten
02/22/2018
$20.00
Good on ya! CAP was fun when I was a kid!
April Jones
02/22/2018
$25.00
Good luck!
David & Sherry Philen
02/22/2018
$25.00
Joel Liles
02/22/2018
$30.00
Rock on!
Shelly Roller
02/22/2018
$25.00
You can do it!
Tam Brock
02/22/2018
$20.00
Angela Williamson
02/22/2018
$50.00
Keep reaching for all of those dreams!!! Your dedication is inspiring!! Love you!!!
John And Abby Whitaker
02/22/2018
$20.00
Good luck!
Edie Spent
02/22/2018
$30.00
I'm so proud of you and how far you have come the last few years! Love you. Aunt Edie
Arawn S
02/21/2018
$25.00
Note: this donation is because your mom is pretty much awesome and I don't get to support her near as much as I would like! I hope you continue to be as amazing as she sees you!
Scott White
02/20/2018
$20.00
Ellen Rockfield
02/19/2018
$20.00
"Keep speaking to people! You are the impact!"- ER
Andrew Hughes
02/19/2018
$20.00
Good luck!
Brian Olson
02/01/2018
$50.00
Harry Stewart
01/15/2018
$75.00
Happy to help!
Ctesk Family
01/12/2018
$80.00
A huge thank you to these amazing humans for supporting me in my journey both financially and morally. I appreciate you every day. *paid in cash* ~ Dava
John and Debbie Salvador
01/11/2018
$75.00
Cadet Flowers, thank you for being CAP's Master of Ceremonies for the General Assembly at the 2017 National Conference in San Antonio. Your confidence and professionalism inspired more than 700 attendees. You are an outstanding representative of the 25,000 young people in CAP's amazing cadet program! Keep up the great work!
BP Foundation
01/09/2018
$75.00
Anonymous Friend
01/06/2018
$30.00
Glad to help
Anonymous Friend
12/26/2017
$100.00
Dava, you are an intelligent, dedicated, and courageous young woman! I admire your relentless pursuit of your goals. Keep it up - and remember to enjoy the ride. :) <3 love you lots! -M
Anonymous Friend
12/20/2017
$120.00
Anonymous Friend
12/16/2017
$150.00
All our best Dava. You are an incredible young woman.
Nana And Grandpa Flowers
11/15/2017
$150.00
We love you
Anonymous Friend
11/12/2017
$35.00
Freakin dumb, jk I hope you reach your goal keep doing great things :)
Adam Helbig
11/12/2017
$20.00
Diane Flowers
11/11/2017
$50.00
Granddaddy would be so proud of you and your accomplishments!
David N Ayre
11/03/2017
$75.00
Good Luck with the challenge
Randi Southard
10/21/2017
$33.00
I see you creating great change, and I admire your leadership at home and in your association. Great job being of service to others, and especially for valuing yourself as a woman in charge of guiding systems to fly!
Anonymous Friend
10/21/2017
$25.00
Good job and good luck!! Marc and April Jones
Dava M Flowers
10/17/2017
$20.00
Total
$1,800.00
Report Abuse
Edit My Page