Lauren S Davidson's Fundraising Page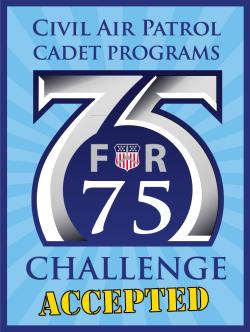 I'm a cadet with Gwinnett Composite Squadron of the Civil Air. This year the Cadet program celebrates 75 years enriching the lives of our nations young people. Because of this milestone CAP has authorized a fundraising campaign to support the local units. All monies received will go toward the operation of our Squadron to advance our three core missions. So please help me raise money to support our Cadet Programs, Aerospace Education and Emergency Services.
Thank You,
C/CMSgt. Lauren Davidson
ABOUT 75 for 75 Challenge
As you may know, Civil Air Patrol is celebrating the Cadet Program's 75th Year. The #75for75Challenge is designed to provide Civil Air Patrol Cadets a structured, well-marketed National Fundraising Campaign to deliver additional financial resources to their local units. This Challenge asks cadets to undertake goals that they personally set for themselves. To learn more about the Civil Air Patrol, visit: http://www.gocivilairpatrol.com
Civil Air Patrol is a U.S. tax-exempt 501 (c) (3) organization. Consistent with IRS guidelines, Civil Air Patrol affirms that goods or services of only insignificant value have been provided to you.
Supporters
Name
Date
Amount
Comments
Jeff Gagnon
01/01/2018
$25.00
Tim Perry
12/31/2017
$1,250.00
Total
$1,275.00
Report Abuse
Edit My Page