Cadet Airman 1st Class Schumacher's Fundraising Page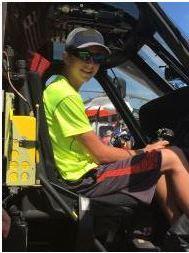 Hello, I am Cadet Airman First Class Matt Schumacher and I have been a member of the Civil Air Patrol for just over 3 months. Ever since I joined, I knew that it would be an incredible experience and so far, it has! In that short amount of time my character, posture, bearing, communication and a lot more have made a tremendous improvement. I believe that CAP is great for almost any teenager because it is a place where exciting, safe, and instrumental activities and learning opportunities happen. I have recently become a member of the color guard and have since then noticed the need for new gloves as the older ones have little to no grip which is essential for carrying a flag or rifle. Any financial contribution would be incredibly appreciated and remember, every little bit counts. Thank you very much again!
ABOUT 75 for 75 Challenge
As you may know, Civil Air Patrol is celebrating the Cadet Program's 75th Year. The #75for75Challenge is designed to provide Civil Air Patrol Cadets a structured, well-marketed National Fundraising Campaign to deliver additional financial resources to their local units. This Challenge asks cadets to undertake goals that they personally set for themselves. To learn more about the Civil Air Patrol, visit: http://www.gocivilairpatrol.com
Civil Air Patrol is a U.S. tax-exempt 501 (c) (3) organization. Consistent with IRS guidelines, Civil Air Patrol affirms that goods or services of only insignificant value have been provided to you.
Supporters
Name
Date
Amount
Comments
Jeanne & Andy Schumacher
01/18/2018
$200.00
Jacqueline Foust
12/12/2017
$50.00
Anonymous Friend
12/11/2017
$50.00
Catie Schumacher
12/11/2017
$50.00
I can see how much CAP has impacted you. We are so happy to see you are already impacting others in return! Love, Nick and Catie
Matthew Andrew Schumacher
12/07/2017
$20.00
Total
$370.00
Report Abuse
Edit My Page