Civil Air Patrol 75 for 75 Fundraiser by Melissa Kuijpers!!!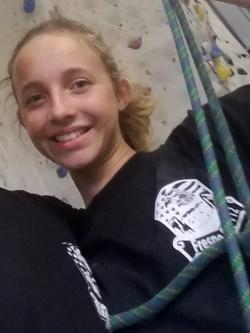 I am very excited to raise money for our Civil Air Patrol Fresno Squadron 112!
Please help me get to my goal of $1,750.00 raised.
Civil Air Patrol is an awesome youth program (Air Force Auxiliary) and this Fundraiser will help our Squadron with equipment, activities and education.
Civil Air Patrol's Three Primary Missions are Aerospace Education, Cadet Programs and
Emergency Services.
Civil Air Patrol has changed my life in many ways, it has given me self-discipline and has taught me right from wrong. Civil air patrol has also given me confidence to do things normally I would not do… Civil air patrol is not just an activity I do, but is come to be a part of my life. The first time I went to civil air patrol it was PT (Physical Training) and let me say, it was pretty tough… but then I met my new friends and saw the exiting path I could take. So yes, civil air patrol is a lot of work, but you also get a lot back in return to help you in life.
Thank you so much in advance for your donation!
Melissa Kuijpers C/A1C CAP
ABOUT 75 for 75 Challenge
As you may know, Civil Air Patrol is celebrating the Cadet Program's 75th Year. The #75for75Challenge is designed to provide Civil Air Patrol Cadets a structured, well-marketed National Fundraising Campaign to deliver additional financial resources to their local units. This Challenge asks cadets to undertake goals that they personally set for themselves. To learn more about the Civil Air Patrol, visit: http://www.gocivilairpatrol.com
Civil Air Patrol is a U.S. tax-exempt 501 (c) (3) organization. Consistent with IRS guidelines, Civil Air Patrol affirms that goods or services of only insignificant value have been provided to you.
Supporters
Name
Date
Amount
Comments
Rowan Orthodontics
02/22/2018
$75.00
So proud of you and the good things you are doing. Dr. Chad
Agnes En Peter Hey
02/22/2018
$27.00
Good luck Melissa
Rocky Hill
02/12/2018
$100.00
Anita En Chris Bekers
02/07/2018
$75.00
Melissa, Good luck with Civil Air Patrol. Enjoy your life. Greetings from the Netherlands. Love, Auntie Anita
Marla Pettygrove
02/01/2018
$75.00
So proud of you!
Anonymous Friend
01/25/2018
$20.00
Aaron and Sara Hill
01/24/2018
$100.00
Wishing you Tail Winds and Blue Skies! You're going to do great things in life - keep it up!
Dusty Rosas
01/21/2018
$3.00
Anonymous Friend
01/21/2018
$75.00
Good luck!!! It's a very good program.
Anonymous Friend
01/12/2018
$100.00
Very proud of you!!! Keep Aiming High
Anonymous Friend
01/04/2018
$70.00
David Martin
01/04/2018
$150.00
What a great cause to raise money for, good job Melissa!
Randy Weaver
01/03/2018
$30.00
Proud of you Melissa!
Bill and Linda Scholle
12/24/2017
$500.00
So very proud of you Melissa. You are becoming a strong woman with goals to be valued!
Erin Lodwick
12/24/2017
$30.00
Merry Christmas!
Susan And Rodney Holmes
12/09/2017
$100.00
Aim High !!!
Sal & Shari Souza
12/08/2017
$75.00
Melissa, I have known you from the first days of your life. You have shown me the determination and drive you have to accomplish the new task at hand. With each new activity you choose, the decision is made to do something better and in this case, Civil Air Patrol, you will go far and learn such great life lessons. Sal and I could not be prouder of you. We Love You.
Janice Jimenez
12/08/2017
$100.00
Congratulations Melissa on making Airman First Class!
Jason Moe
12/02/2017
$20.00
Keep up your great service, commitment, and passion for ALL that you do!
Val Fogelberg
12/01/2017
$25.00
Go Air Force
Jon Klingborg
11/30/2017
$75.00
I look forward to seeing Melissa in the wild blue yonder-- after veterinary school!
Carolene Smith- Drury
11/29/2017
$25.00
Melissa, I am thrilled you undertaking this challenge in your life. I always knew from the time you came into this world you had the potential to make a difference in this world.
Anonymous Friend
11/26/2017
$25.00
Aim High!!
Melissa Kuijpers
11/26/2017
$25.00
Aimee high!
Total
$1,900.00
Report Abuse
Edit My Page