Jude Hemann: For a strong America!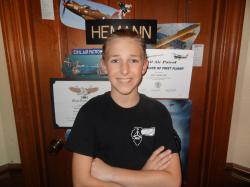 Hello, my name is Jude Hemann. I am currently a Cadet Master Sergeant and a Flight Sergeant in the Scott Composite Squadron of the Civil Air Patrol, USAF Auxiliary, Scott AFB, IL. I joined Civil Air Patrol in January of 2017. Civil Air Patrol, or CAP, is a program for young men and women ages 12-21, to develop leadership skills through military disciplines, aerospace education, and emergency services. Disciplines include drill and ceremonies, physical fitness, and uniform inspections.
Cadets in CAP go through the Air Force ranks starting as an Airman Basic. To gain ranks you have go through PT tests, aerospace tests, leadership tests, drill tests, and essay and speeches depending on your rank. My short term goal is to get to Cadet Chief Master Sergeant by the end of next year. I plan to make Cadet Colonel by the time I am a senior. I am proud to wear the USAF uniform both blues and utility uniform.
CAP offers multiple weekend and meeting time activities including RC aircraft flying, model rocket building and launching, week-long year-round encampments, emergency services field training, search and rescue exercises, and orientation flights, where cadets get to fly in, learn about, and fly (co-pilot) a real Cessna airplane or glider. In comparison to other youth organizations the participant cost is very reasonable which opens up the organization to more people. This low cost is due to the countless volunteer hours of senior member adults who lead our squadron.
This fundraising drive will help us in supplying uniforms, learning materials, emergency services training and gear, model rockets, remote control planes, color and honor guard gear, and much more. Your donation could help our squadron grow in leaders, scientists, navigators, and pilots, for the strong future of America.
Thank you for visiting this page and considering a donation to my squadron. You are supporting my squadron, my future, and the future of America.
Semper Vigilans
C/MSgt Jude A. Hemann
CAP Core Values: Integrity, Volunteer Service, Excellence, Respect
ABOUT 75 for 75 Challenge
As you may know, Civil Air Patrol is celebrating the Cadet Program's 75th Year. The #75for75Challenge is designed to provide Civil Air Patrol Cadets a structured, well-marketed National Fundraising Campaign to deliver additional financial resources to their local units. This Challenge asks cadets to undertake goals that they personally set for themselves. To learn more about the Civil Air Patrol, visit: http://www.gocivilairpatrol.com
Civil Air Patrol is a U.S. tax-exempt 501 (c) (3) organization. Consistent with IRS guidelines, Civil Air Patrol affirms that goods or services of only insignificant value have been provided to you.
Supporters
Name
Date
Amount
Comments
John And Judy Staab
02/15/2018
$100.00
We are so proud of you, Jude! Keep working hard and don't ever lose your smile and positive attitude on life. Love, Grandma and Papa
Scott Wick
02/12/2018
$100.00
Dennis Higgins
11/12/2017
$25.00
Continue your path with God.
Cheryl Johnson
11/12/2017
$20.00
Phyllis & Dan Smith
11/08/2017
$50.00
We are so proud of you Jude.
Mike & Dee Kapilla
11/07/2017
$100.00
Hey Jude [i think that's a song i heard somewhere] I have watched you grow up at daily Mass, but this donation is not just for you but also for your parents who have done such an awesome job with raising you and your siblings in our Catholic faith.
Dave Barber
11/07/2017
$100.00
Proud of you Jude!
Stan And Kathy Hemann
11/06/2017
$100.00
Pat And Roger Atherton
11/06/2017
$50.00
Lori And Mike Bode
11/06/2017
$50.00
Bill and Arlene Ess
11/06/2017
$40.00
Anonymous Friend
11/06/2017
$100.00
Good luck Jude! You are on your way to do great things for God and our country!
Mary Ann Wirz
11/06/2017
$20.00
Best wishes young man from the girls at Little Flower Gifts and Books. You are always in our prayers.
Liz Hemann
11/06/2017
$25.00
So proud of you, C/SSgt Jude A. Hemann!
Greg Falada
11/06/2017
$50.00
Bravo Jude! Keep up the excellent work!!
Pamela Snider
11/05/2017
$25.00
You go, Jude!
Lynn Dermody
11/04/2017
$25.00
Jude, we are proud of you. Best wishes as you meet the challenges and goals you have set for the future. We know you will succeed. The Dermody Family
Dave & Shelley Toennies
11/04/2017
$50.00
Glad to hear about the amazing activities you are involved in Jude. Tell your Mom and Dad hello.
Jennifer Whitten
11/04/2017
$75.00
What a fantastic program! I'm very impressed with your goals. Best of luck. You will go far.
Judy Keeven
11/04/2017
$25.00
I am very proud of you, Jude.
Anonymous Friend
11/04/2017
$300.00
I have always known that you, Jude, will go far in your lifetime. God has blessed you with many talents!!
Anonymous Friend
11/02/2017
$25.00
You have been working hard, Jude, and it shows in your achievements! Keep up the great work!! Mrs. Williams
Anonymous Friend
11/02/2017
$10.00
Proud of you, Jude! Keep up the good work!
Julie Frosch
11/02/2017
$50.00
Blessings to you, Jude! What great goals you have set. May you soar high. Love, The Frosch family
Total
$1,515.00
Report Abuse
Edit My Page