Alicia Lapp's Fundraising Page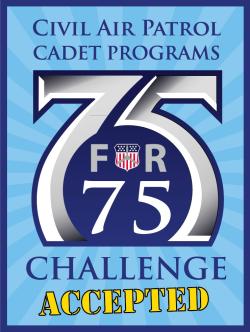 I am trying to raise money for a program that I am very passionate about. It is also a program that helps young kids like myself with structure and dicipline as well as making friends and serving the community all at the same time. I am asking all of my family and friends to donate to the Civil Air Patrol Program so it can continue to help kids, like myself, to mentor and help us develop into responsible citizens and leaders.
ABOUT 75 for 75 Challenge
As you may know, Civil Air Patrol is celebrating the Cadet Program's 75th Year. The #75for75Challenge is designed to provide Civil Air Patrol Cadets a structured, well-marketed National Fundraising Campaign to deliver additional financial resources to their local units. This Challenge asks cadets to undertake goals that they personally set for themselves. To learn more about the Civil Air Patrol, visit: http://www.gocivilairpatrol.com
Civil Air Patrol is a U.S. tax-exempt 501 (c) (3) organization. Consistent with IRS guidelines, Civil Air Patrol affirms that goods or services of only insignificant value have been provided to you.
Supporters
Name
Date
Amount
Comments
Marcella Helm
03/01/2018
$40.00
Grandma and Grandpa are very proud of you Alicia
Anonymous Friend
02/28/2018
$40.00
I am so proud of you!! Can't wait to see what life has in store for you!! Love you to pieces!!
Joshua Lapp
02/13/2018
$30.00
Behalf of Alicia Rose Lapp, whom I can see is very proud to be a part of the Civil Air Patrol. Her uncle Josh is smiling down upon her & will be with her through out her journey.
Anonymous Friend
02/13/2018
$100.00
So proud of you!!! Keep up the great job!!!
Anonymous Friend
02/08/2018
$100.00
Good luck and keep up the good work
Reena B.
01/29/2018
$20.00
Sounds like a great opportunity for kids!
Jack Chartrand
01/29/2018
$20.00
Total
$350.00
Report Abuse
Edit My Page