CAP-Rapp75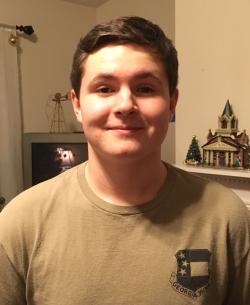 The Civil Air Patrol program is the auxiliary of the United States Air Force. It is a great opportunity for kids and adults alike. There is a wide variety of activities and programs in the CAP program. CAP is responsible for saving 75-100 lives a year in their emergency services programs, and saving the military $1.7 million by transporting UAVs (Unmanned Aerial Vehicles) for the Military. CAP is a volunteer program which is the main reason we need your help in keeping the CAP program alive. Without your support there will be no CAP. In this challenge the proceeds go directly to my unit which means we can go to more volunteer opportunities and more activities. With your help we can keep CAP alive and thriving.
A little about my experiences:
I joined CAP in November, 2015. Over the next two years I had a great experience with the CAP program. I attended my basic encampment which is the CAP equivalent of the military basic training. I had multiple volunteering experiences which include, volunteering at a memorial veteran park, presenting the colors at a political gathering, and marching in several parades. I am enjoying a great leadership experience. I am learning life skills that I never expected to learn in the CAP program. I enjoy every minute of the CAP experience and never regret joining this program. My advice to you is to participate in this outstanding program either by joining, getting the word about CAP, or making a donation. Whatever you choose we are with much gratitude.
Thank You, Evan Rapp
ABOUT 75 for 75 Challenge
As you may know, Civil Air Patrol is celebrating the Cadet Program's 75th Year. The #75for75Challenge is designed to provide Civil Air Patrol Cadets a structured, well-marketed National Fundraising Campaign to deliver additional financial resources to their local units. This Challenge asks cadets to undertake goals that they personally set for themselves. To learn more about the Civil Air Patrol, visit: http://www.gocivilairpatrol.com
Civil Air Patrol is a U.S. tax-exempt 501 (c) (3) organization. Consistent with IRS guidelines, Civil Air Patrol affirms that goods or services of only insignificant value have been provided to you.
Supporters
Name
Date
Amount
Comments
Anonymous Friend
03/01/2018
$305.00
Anonymous Friend
02/28/2018
$100.00
Marie Moody
02/28/2018
$50.00
Keep up the good work
Beverly Faust
02/28/2018
$50.00
Go Evan! I'm so very proud of you :)
Esther Pasedag
02/28/2018
$20.00
Anonymous Friend
02/28/2018
$100.00
Best wishes
Anonymous Friend
02/28/2018
$20.00
Jonathan Hill
02/28/2018
$20.00
Anonymous Friend
02/28/2018
$100.00
Stephen Pasedag
02/28/2018
$5.00
You welc boi -Steph curry
Mary Thomas
02/28/2018
$20.00
Go Evan!!!
Joey Buchanan
02/28/2018
$50.00
Rich Boettcher
02/28/2018
$25.00
Greg & Debbie Hill
02/15/2018
$75.00
Keep up the good work Evan!!
Christina Citak
02/12/2018
$20.00
CAP is a great program! Keep up the good work!
Pat & Anne Tria
02/10/2018
$50.00
great program and embrace all that you can
Billy J
02/07/2018
$20.00
Jim Rapp
02/06/2018
$25.00
Proud of your accomplishments Evan!
Anonymous Friend
02/05/2018
$50.00
Kathleen Corbin
02/05/2018
$10.00
Rhonda Lewis
01/28/2018
$20.00
Carl Lewis
01/28/2018
$20.00
Danny Edmonds
01/22/2018
$50.00
Keep you the good work!
David Davidson
01/21/2018
$10.00
Proud of you EVAN!
Anonymous Friend
01/15/2018
$100.00
A. Neighbor
01/08/2018
$20.00
Anonymous Friend
01/07/2018
$100.00
Pam Stainbrook
01/03/2018
$20.00
Wishing you the best, Evan!
Dorothy Greenley
01/02/2018
$15.00
Good job Evan. Keep up the good work.
Alise Parker
01/02/2018
$20.00
So proud of you Evan♡
Joelle Kennedy
12/16/2017
$10.00
❤❤❤
Total
$1,500.00
Report Abuse
Edit My Page