C/SrA BROCK THOMPSON'S FUNDRAISING PAGE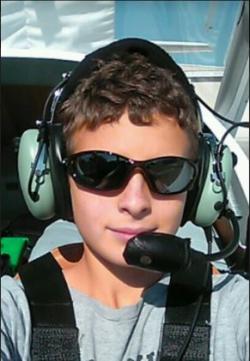 I am Brock Thompson and I accepted the 75 for 75 challenge I always liked going up in airplanes and seeing the world in different ways, now that I have been in the Civil Air Patrol for almost a year now I have been able to go on orientation flights, participate in young eagles events and attend my first encampment. The CAP has been a very fun experience, I joined the CAP to learn to fly and leadership skills.
ABOUT 75 for 75 Challenge
As you may know, Civil Air Patrol is celebrating the Cadet Program's 75th Year. The #75for75Challenge is designed to provide Civil Air Patrol Cadets a structured, well-marketed National Fundraising Campaign to deliver additional financial resources to their local units. This Challenge asks cadets to undertake goals that they personally set for themselves. To learn more about the Civil Air Patrol, visit: http://www.gocivilairpatrol.com
Civil Air Patrol is a U.S. tax-exempt 501 (c) (3) organization. Consistent with IRS guidelines, Civil Air Patrol affirms that goods or services of only insignificant value have been provided to you.
Supporters
Name
Date
Amount
Comments
Gloria & Marvin Fangmeier
01/28/2018
$100.00
Good luck, Brock!
Katherine Solomon
01/25/2018
$150.00
Congratulations! Keep up the good work.
Anonymous Friend
01/22/2018
$75.00
Perseverance Airman Thompson!
Matt and Beth Finn
01/19/2018
$40.00
Thank you for your service and working so hard to preserve our country's history and protection and for inspiring our future generations with examples of hard work and worldwide community service.
Albert And Maria Forero
01/19/2018
$100.00
Very proud of what you are doing, good luck with your goal.
Roy And Carolyn Mortensen
01/18/2018
$100.00
Brock, you represent Civil Air Patrol with respect and honor. We are so proud of you.
Marla Luft
01/03/2018
$50.00
Elda Bellon
01/02/2018
$50.00
Congratulations Brock, Brian and I are proud about your goals to become a pilot!
Chris Newell
01/02/2018
$100.00
Jacque & Rodman Franklin
12/28/2017
$50.00
Soar to you goals! Brock you Rock! Congatz!
Miguel & Debbie Castro
12/20/2017
$150.00
Congratulations on all your accomplishments! We are looking forward to what the future holds for you!
Mouser Cabinetry
12/15/2017
$250.00
Brock, We are very pleased to participate in your efforts to support the Civil Air Patrol. Congratulations and much success. S/M
Brittany And Andy Snyder/Newton
12/11/2017
$20.00
Rice's Moving and Transport
12/06/2017
$100.00
Good luck with your CAP program.
Brock And Rara Thompson
12/05/2017
$500.00
Brock, we are so proud of you and your accompolishments. Grab every opportunity to grow and advance in your CAP group. Loce
Espen Schiefloe
12/04/2017
$100.00
good luck!
Wilson&Carol Bradley
12/03/2017
$300.00
Brock, great job so far on your goal! Congratulations. Keep up the good work in CAP.
Lois Muhl
11/30/2017
$150.00
Brock — Wishing you a wonderful experience.
Michelle Glynn
11/29/2017
$100.00
Great job Brock! Keep up the good work.
Tricia Pallak
11/29/2017
$100.00
Jr And Athena Thompson
11/28/2017
$500.00
Proud of all the things you have accomplished and amazing experiences you had with CAP this year!
Nona & Nono Traven
11/28/2017
$400.00
Congradulations Brock, so proud of you!!
Charles & Gloria Winkler
11/25/2017
$100.00
Very proud of your efforts!
Mullets Appliances
11/22/2017
$100.00
John Winfield
11/21/2017
$100.00
Good Luck Brock
Ricardo Traven
11/21/2017
$100.00
CAP is the best thing you can do with your time after school...I hope you all achieve your goals and turn these fund raiser funds into fun and interesting things for CAP to do!!!
Neal Adams
11/21/2017
$100.00
Keep up the great work Brock. Proud of you!! Always remember, "There are Old pilots and there are Bold Pilots BUT there are seldome OLD BOLD PILOTS! Fly safe and sunny skies.
Anonymous Friend
11/21/2017
$1,000.00
Michelle Jacobs
11/21/2017
$100.00
Fly high young man!
Joe Pla
11/20/2017
$25.00
Susan Morgan
11/20/2017
$500.00
Way to go Brock! Proud of you and your squadron!
Cynthia Belcher
11/20/2017
$100.00
Keep up the good work Brock
Molly Stanley
11/20/2017
$100.00
Congratulations on being a cadet and thank you and your squad! Good luck on reaching your goal!
Total
$5,810.00
Report Abuse
Edit My Page