Ashley Conigliaro's Civil Air Patrol Fundraiser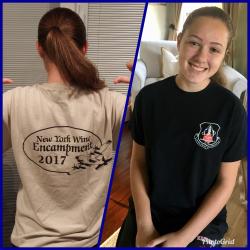 Hi! My name is Cadet Chief Master Sergeant Ashley Conigliaro from Sufflok Cadet Sqaudron 10, visit us at www.squadronx.us.I've been in the Civil Air Patrol Cadet Program since August 2016.
For those of you that are not familiar with the Civil Air Patrol, it is an all volunteer force consisting of Senior Members (Adults) and Cadets (kids 12 and up). The Civil Air Patrol is also an Auxiliary of the U.S. Air Force. Formed on 1 December, 1941 the Civil Air Patrol or "CAP's" primary mission objectives are Cadet Programs, Emergency Services and Aerospace Education. Cadet Programs allows kids ages 12 and up to make friends, have fun and be apart of a program where they can learn to become leaders, learn and take part in search and rescue operations, learn about aerospace education and help their community through volunteer service.
In the time I have been in CAP I have learned a lot and feel I've also accomplished much in the Civil Air Patrol Patrol Cadet Program which is based upon 4 Core Values (Volunteer Service, Integrity, Respect and Excellence).
Some of these accomplishments include promoting 8 times to my current rank of Chief Master Sergeant, becoming ground team 3 qualified for emergency services, being selected to my first staff position as Flight Sergeant and more recently Flight Commander, receiving honor cadet of my flight at this year's NY wing encampment and being selected as Airman of the year in 2016 for my squadron. I've also earned three challenge coins and been selected to Color Guard Team. I recently even got to present the colors at the New York Rangers game (that was both so much fun and an honor).
Throughout the year I've volunteered countless hours at various events throughout Long Island. I am very proud of these achievements, the friends I've made and the people in the community I've helped. I believe with a little bit of effort, focus and commitment we all can accomplish extraordinary results The hardwork we put in now will impact your life's goals and help you in your future career choice. I'm currently in the 11th grade. When I graduate high school it is my dream to become an officer in the United States Air Force by being accepted to the Academy or entering into the Air Force ROTC program in college. This year the Civil Air Patrol turns 75. It is my hope I can spread the word to more people both kids and adults so that more people can be apart of this great volunteer force. If you can please donate to my fundraising page. All funds will go to my individual squadron that I am apart of (www.squadronx.us). Thank you for helping.
ABOUT 75 for 75 Challenge
As you may know, Civil Air Patrol is celebrating the Cadet Program's 75th Year. The #75for75Challenge is designed to provide Civil Air Patrol Cadets a structured, well-marketed National Fundraising Campaign to deliver additional financial resources to their local units. This Challenge asks cadets to undertake goals that they personally set for themselves. To learn more about the Civil Air Patrol, visit: http://www.gocivilairpatrol.com
Civil Air Patrol is a U.S. tax-exempt 501 (c) (3) organization. Consistent with IRS guidelines, Civil Air Patrol affirms that goods or services of only insignificant value have been provided to you.
Supporters
Name
Date
Amount
Comments
Anonymous Friend
02/28/2018
$30.00
Anonymous Friend
01/17/2018
$25.00
Janeen & Doug Cevasco
01/17/2018
$25.00
Congratulations Ashley on all of your accomplishments so far. Keep up the good work. You make all that know you and love you so proud!❤
Viacom/John Conigliaro
01/04/2018
$100.00
Anonymous Friend
12/08/2017
$25.00
Anonymous Friend
12/07/2017
$50.00
Tony C
11/13/2017
$25.00
John O'Halloran
11/12/2017
$20.00
Good Luck.
James Healy
11/11/2017
$50.00
Congratulations on your accomplishments so far and good luck going forward!
Stakey Family
11/10/2017
$50.00
What a wonderful program Ashely! Good Luck in all you do!
Kevin Loughrey
11/06/2017
$75.00
Anonymous Friend
11/04/2017
$50.00
Congratulations on all of your accomplishments. So very proud of you, Ashley. Good luck reaching your goal. We love you. Grandpa & Grandma
Cynthia Conigliaro
11/03/2017
$100.00
Good luck on making your goal.. I'm so proud of everything you've achieved,you always give 100% in all you do... I love you Ashley❤️ Love Mommy
Anthony Castillo
11/03/2017
$20.00
Good luck on your journey
John and Linda Bohannon
11/03/2017
$25.00
Good luck Ashley we are so proud of all you've accomplished. John& Linda
Angela Conigliaro
11/02/2017
$10.00
Good luck
Tina Conigliaro
11/02/2017
$20.00
Good luck!
Gregg Riedel
11/02/2017
$25.00
Keep up the good work! -CPT Gregg Riedel, ORD 9th FA, VCASNY
Christian Catalanotto
11/02/2017
$20.00
Keep up the good work Ashley I know that your father is very proud of you!!
J Zebro
11/02/2017
$75.00
Boyd and Melissa Boyd
11/02/2017
$50.00
We are so proud of you, Ashley! Keep up the good work!
Walter Kissinger
11/02/2017
$25.00
Good luck Ash. You can do it.
Ashley Conigliaro
11/02/2017
$50.00
HOPE YOU REACH YOUR GOAL SO PROUD OF ALL YOU ACHIEVED IN SUCK A SHORT PERIOD OF TIME LOVE, GRANDMA
Lori Molinaro
11/02/2017
$25.00
VERY PROUD OF YOU! KEEP UP THE GOOD WORK! LOVE, Aunt Lori, Uncle Tony, Gina & Gabriella
Christy & Caleigh Capek
11/02/2017
$50.00
Good luck Ashley
Total
$1,020.00
Report Abuse
Edit My Page